Forum Marketing Traffic – The Basics
The Basics
Forum Marketing Traffic is a "not so new" method of getting free traffic.  A lot of people have heard about it before, but very few people actually do it. I really have no idea why people don't do this.  Forum Posting is an easy way to drive the best traffic (we are talking targeted here) to your website for free.
In this article
we are going to go over forum posting,
how to properly do it
how to use it to generate a good amount of traffic to your website.
Don't Skip This – Forum Marketing Traffic
Before we get started, I know a lot of you might be tempted to just skip over this. When I was trying to figure out how to build my list, I bought countless WSO's on list building. A couple of the WSO's said to use forum marketing traffic by posting in forums. I always just skipped past that section.  I didn't believe you can really generate much traffic at all through simply posting in forums a couple times per day.  How wrong can you be!!
Once I started to consistently post in the different forums I noticed the power of making a couple high quality posts every single day. If you want to build your list as quickly as possible, forum posting should be part of your every day strategy.
Find A Couple Forums
If you are in the internet marketing niche, I can tell you right now the only forum you really need to join is WarriorForum.com. Yes, there are other internet marketing forums out there, but The Warrior Forum generates the most traffic by far.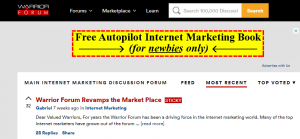 If you are in another niche, you might want to find a couple of forums to join. Finding forums is actually really easy.  Do some keyword research under Forum Marketing Traffic or your specific niche.
You can use Google to help you find forums. Just head over to Google and search "Your Niche + Forum". Once you search that, Google will return a bunch of forums. Go through them and figure out which ones are the most active and join the most active ones. However, before you join make sure they allow you to leave a link in the signature. Most of them will but there are a few that won't allow it.
Forum Directories
Forum Directories are also another good place to find forums that are relative to your niche. You can do a
search on Google for Forum Directories and then look at the categories they list.  Find A Forum.net would be a good place to start your search.  You can locate some more forums listed in an article I wrote here.
Adding Your Signature
Before you start making posts, you want to leave a link to your squeeze page in your signature that way below each post you make there will be a link to your squeeze page which will get exposed to thousands of people.
A Simple signature has been responsible for driving a couple thousand visitors to my squeeze page these past few months.
You Know More Than You Think
It seems like each time I tell someone they need to start consistently posting on forums, they always tell me "but… I don't know enough to help out other people". Feeling like you don't know enough is not an excuse for not posting.
I can guarantee you that you know a lot more than you think. If you browse through some of the threads in Forums,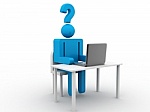 you are going to find some threads you can post in and give your input. The main problem is some people just lack confidence and are afraid they are going to give their opinion and then have others start an argument with them and tell them they are wrong.
Unless you say something completely false and start spamming the forum, this isn't going to happen. Forums are meant for opinions, sure there might be times where someone doesn't agree with you, that happens to me all the time, but as long as you aren't rude to them they won't be rude to you.
Research is a good thing to do!
If you feel like you REALLY don't know anything about your niche, then you can still create forum marketing traffic. Just make sure you do a little bit of research before you make a post. There's nothing wrong with going to Google to look up an answer and then reporting back with what you learned.
So don't let the fear of "not knowing anything" or the fear of getting in an argument on the forums stop you. Making daily posts will increase you forum marketing traffic.
Post On New Threads
If you want to get the most out of your forum posting, you should try to post on new threads that don't have many (if any) replies yet. When you are one of the first three responders to a new thread, you have a much greater chance of someone reading your response which means they will be exposed to the link in your signature.
If 10-15 people have already replied your reply will get stuck somewhere in the middle and most people don't read that far down which means they won't see your reply/signature.
Give Value Value Value
I think this could go without saying, but I am going to say it anyways because it is extremely important. When you guys make your posts, you need to make sure you are actually adding value to the forum. Don't just go out and make as many short little posts as you can, that's not really helping anyone.
Make sure you actually read the persons question and then do your best to give them an answer or chime in with your opinion.
Your Forum Posting Strategy
The thing I love about forum posting is that it doesn't take long to do at all and I actually find it kind of fun. You get to engage with others who have the same interests as you and drive traffic to your squeeze page at the same time, sounds like a pretty good deal to me!
So how many times per day should you be posting in a forum? I would say to make about 5 high quality posts every single day. 5 posts does not take a long time at all, and once you make 5 posts for about a week straight you will see how much traffic you can actually drive to your squeeze page on a daily basis.
So if you are like me and you have always put aside forum posting and said it's not for you, I challenge you to try it for just one week.
The Challenge
Forum Marketing Traffic is really one of the best ways to drive free targeted traffic to your websites. Make 5 posts every single day for one week and watch how many new subscribers you get. After that week you can decide whether or not it is something you want to continue with. Once you see how many new subscribers you got from doing it I am sure it is something you will want to continue doing.
As usual your comment are welcome.
Here's to your success in 2018!
Donnie Ellis